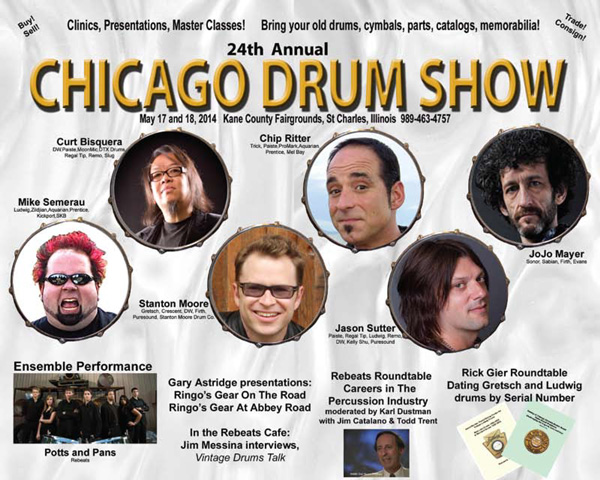 The Chicago Drum show, the oldest, biggest and most original vintage drum show of its kind is coming May 17 & 18, 2014 to the Kane County Fair grounds. With over 30,000 square feet event space, it's a great way to help celebrate May as International Drum Month!
For the past 24 years, drum historian, author, and drummer Rob Cook has hosted one of the best original drum events ever. It has drawn drummers and drum enthusiasts from all over the world to see vintage gear piled high, great deals, and good conversation.
The show bills itself as "the world's largest and longest-running event of its kind… a swap-meet, a drum expo, and an entertainment event [featuring] new, used, vintage and custom drums, cymbals, and related accessories. "
In the earlier days of the show when he was still alive, Mr. Ludwig himself made appearances every year. He always had such great stories to tell. Over the years we have met drum enthusiasts from all over the United States, Europe, and Japan. Major companies such as Ludwig, Sabian, Drum Workshop, Zildjian, Trick, and many others set up booths chock full of products for attendees to view and check out. The show has also attracted some of the smaller boutique drum companies that you often don't see at bigger shows like NAMM or PASIC. Even YOU can be an exhibitor by bringing instruments to the consignment area staffed by experts in drum valuation and letting them sell gear for you!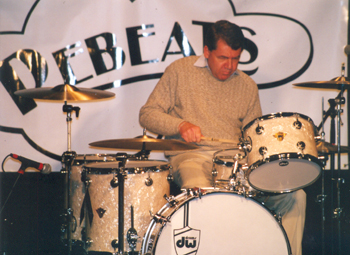 For the uninitiated, the Vintage Drum Show is two full days of drums, drumming, with guest appearances from some of the best clinicians out there. The two days are filled with clinics, workshops, seminars, raffles, and master classes. On the bill this year are clinics and master classes by Chip Ritter, Jason Sutter, Stanton Moore, Curt Bisquera, and JoJo Mayer.
It started out twenty-four years ago with vintage drum dealers and has evolved into a drum expo with dozens of companies, large and small. Vendors bring together all aspects of drums and accessories, sometimes featuring one-of-a kind products and prototypes as well as the occasional product launch. There are usually 50 – 60 exhibiters ranging from private collectors and individual craftsmen to some of the leading drum and cymbal companies in the industry.
Every year more and more exhibitors and attendees are making the trip to Chicago to celebrate International Drum month and the craft of everything drum related. In fact next year's 25th Anniversary of the Chicago Drum Show will also be an expanded 3-day event that you wont want to miss either (May 15, 16 & 17 2015)!
So, whether you are a drum geek or are just in looking for a great occasion to come out to Chicago (well St. Charles, IL actually), then be sure to stop by and see what the fanfare is all about. Some of the Five Star Drum Shop owners come to the show too, and we hope to see you there. For more information on the show, go to www.rebeats.com.
Or, check out the show guide here.
– Liz and Terry Hawkins
Skins 'n' Tins Drum Shop
Champaign, IL