Some of the greatest experiences and relationships in my professional life have revolved around the huge collection of Elvin's Jones's drum gear that I was so fortunate to acquire shortly after he passed. I have met so many people via these drums. My life would have turned out much differently had these drums never found there way into my life.
One of the many sets I acquired was this Yamaha Maple Custom. One of four identical sets Jones required for his globe-trotting itinerary — one each for East Coast, West Coast, Europe, and his home in New York. Jones began his relationship with Yamaha in the early 1990s and maintained it for the remainder of his life.
The set consists of an 18″ × 18″ bass with "Elvin Jones Jazz Machine" logo head, 12″ × 8″, 13″ × 9″ toms, 16″ × 16″, 18″ × 18″ floor toms, and a 14″ x 5″ snare. "ELVIN JONES" is engraved in the badges on the snare, bass, and floor toms. The cymbals are all Zildjian K's. The drums are finished in Jones' signature gold sparkle "champagne" finish with all gold lugs. These were the drums he played from the mid-1990s until the day he passed.
You can see Elvin himself playing this kit in this video:
To celebrate these drums even more, Drum Magazine recently featured them in their Time Capsule section: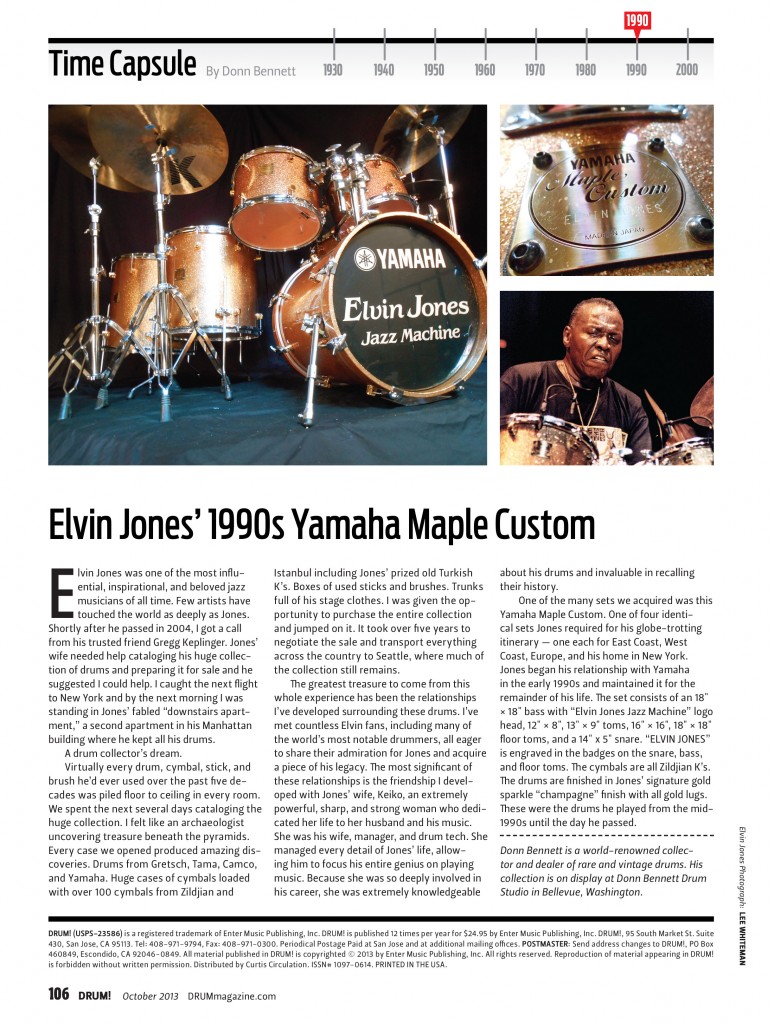 Download the PDF: Time Capsule: Elvin Jones' 1990s Yamaha Maple Custom
This set and many other items from the Elvin Jones collection are still available. You can view the entire collection HERE.
And don't forget to check out the other unique pieces of drum history that I've come across at http://bennettdrums.com/museum/.
– Donn Bennett
Donn Bennett Drum Studio